How to plan your staff professionally
BB
Excel is a great tool. Due to its flexibility and open structure, it offers many different options. You can create a simple overview or a nice graph in no timeExcel is a great tool. Due to its flexibility and open structure, it offers many different options. You can create a simple overview or a nice graph in no time.
At the same time, this open and flexible structure is also the problem. Especially when it comes to important and critical data for the organization and the customer because you can easily change something or copy a formula, it makes Excel prone to error and time-consuming for the average user.
Simple staff planning or arranging time registration with Excel is easy to do, especially if you are handy with Excel. If you depend on Excel, there are more efficient, more effective, and, above all, safer options.
Then you want a safe and reliable system where everyone can work without having to worry about errors creeping in. You want to be able to grow with your company and add new staff to the software without having to worry that the planning or administration will go wrong.
Your organization must have the ability to adapt quickly to the changes you want to respond to. To grow successfully you need to be flexible and at the same time monitor stability to remain reliable.

---
---
Are the factors below recognizable to you?

Spend a lot of time on administration?
Hours are often manually tracked and stored in Excel. Quite strange since time registration and staff planning are crucial and precious for a company. Filling in the timesheet, collecting, retyping, and processing the invoices and salary takes a lot of time.
But just as badly, every extra step increases the chance of making mistakes. Emerce research shows that more than 70% of employees do not keep track of their hours properly. As a result, hours will disappear and are not paid.
Making the Excel overview is not difficult, but keeping it up is time-consuming. Especially if you want to schedule a lot of employees or register the hours. We are not even talking about availability, holidays or working from different locations.
With the current online technology, scheduling and time registration can be much more effective and efficient, even cheaper than Excel, which is free.
Last minute schedule changing
A schedule is constantly changing. People you have scheduled cannot come. The customer starts at a different time, an assignment is canceled or there is an urgent question in between.
The more often the staff planning changes, the more time it takes to complete the planning. Then it is more likely that a colleague will overlook the changes.
Good planning is prepared for this. The planning is based on uncertainties that can surface at any time. But is the system also prepared for it? Making a change in Excel is no problem. But that does not mean the employee knows that the schedule has changed
You must communicate every change to the employees yourself. So that means calling, texting, or emailing the employees and hoping you get to them in time. I don't check my app messages every morning either. I know from experience how frustrating it is to receive a phone call when you are already on your way, that the appointment is canceled.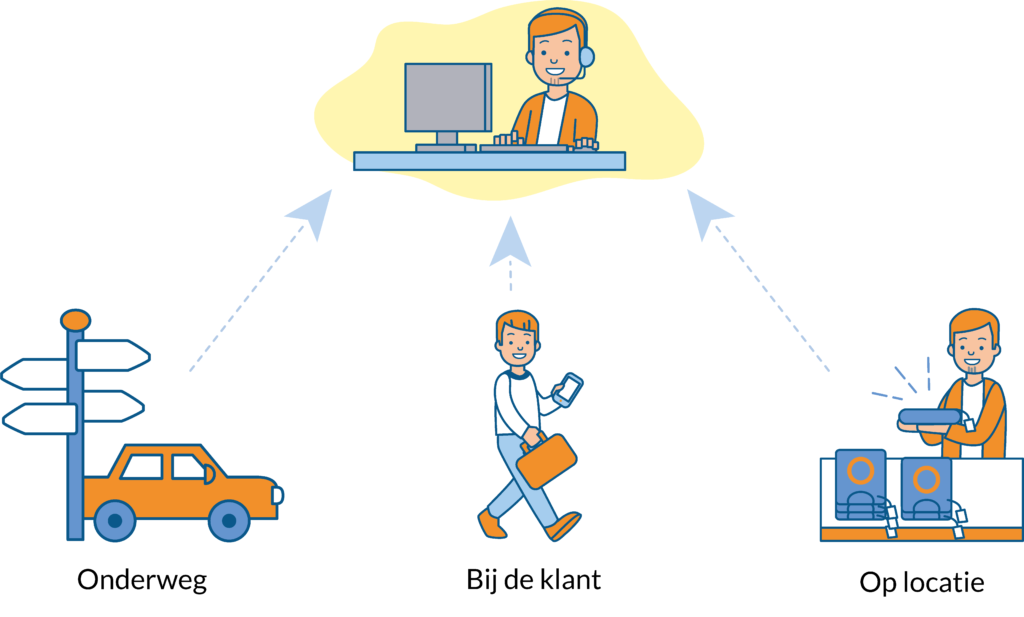 Quick overview from different angles
Who can work when and where? For planners, it is crucial to know who is available when, where, and for which customer. Insight into holidays, days off, night shifts, and competencies is not always easy to find. With the result that no optimal occupancy can be made in the schedule. Especially when the pressure increases, such as with an urgent request or absenteeism due to illness.
In the past, the only way to avoid stress was to appoint people as replacements in their spare time. However, this deprives the employee of his freedom, and of course, this also costs money.
With the advent of online scheduling systems and mobile applications, scheduling can be much more efficient and faster. You ask employees when they want to work, you can offer open services to which employees can respond and, employees can indicate their own days off or return shifts. Everything is quick and easy thanks to predetermined procedures.
Because everything is linked together, you can call up the right insights at any time that you need to arrive at an optimal schedule. You can also give all stakeholders: the customer, the employee, the administration, and the management access to the most up-to-date information. From long-term planning and occupation, to live performance on location.
In addition, you can easily create reports that you need to be able to respond to the needs of customers, employees, administration, and management without any technical knowledge.
Discussion about the time registration
Nothing is more annoying than time registration. If the receipts have been filled in, they are often too difficult to read, incorrectly copies, or a discussion arises about the invoice.
Time registration is just a bitch.
That is why it is nice if it can be done quickly and easily. It is possible because the planning already tells you what to expect in the implementation. Good planning is 90% of the execution and therefore, the time registration.
Why do the most annoying job, because that is time registration, twice, or three times, if it can also be done in one go..
By linking planning with implementation and giving the customer access, we can solve the entire chain in one go. Everyone sees the same and can immediately give their reaction.
Does the employee work at one of the other locations and does he receive a travel allowance? Then of course you want to invoice them directly. During the planning, you can already take this into account, something that a system can easily remember.
That is why connecting time registration and planning is so important. Make sure you have good planning that is in line with reality. This prevents errors and discussion during implementation and accountability afterward.
Good transparent planning contributes to the confidence and satisfaction of both employees and the customer.
Employees forget when to work
Forgetting is perhaps the biggest problem for all of us. I am bothered by this myself, I make an appointment over the phone and forget it when I hang up the phone. Or even worse: WhatsApp messages back and forth about a date and time that I forget to include in my calendar.
People like to make appointments, but they are bad at remembering. And especially if the appointment changed. You forget exactly what you have promised until they call you and ask where you are.
I hear many a planner also complain that their job more resembles that of a kindergarten teacher who has to tell anyone when and what time they have to work, than that of a planner.
A good, unambiguous schedule with minimal changes is very important. One solution is to have employees arrange it among themselves, but then you no longer know who needs to be where and when.
Communication is the most important key here. You can do this manually, by always keeping everyone informed, as I have done for years as a project manager myself. Fortunately, as with any routine, this can be done automatically. By giving everyone insight into the most up-to-date schedule, with a device that everyone uses all day long: mobile phones.
Nine steps to a professional schedule
Making a good schedule is a lot easier if you follow a good process. We have listed nine steps for you. If you follow these nine steps, it will prevent you from forgetting something important.
If you use ONDURO, you have your entire staff schedule and Workforce management in order at once with these steps.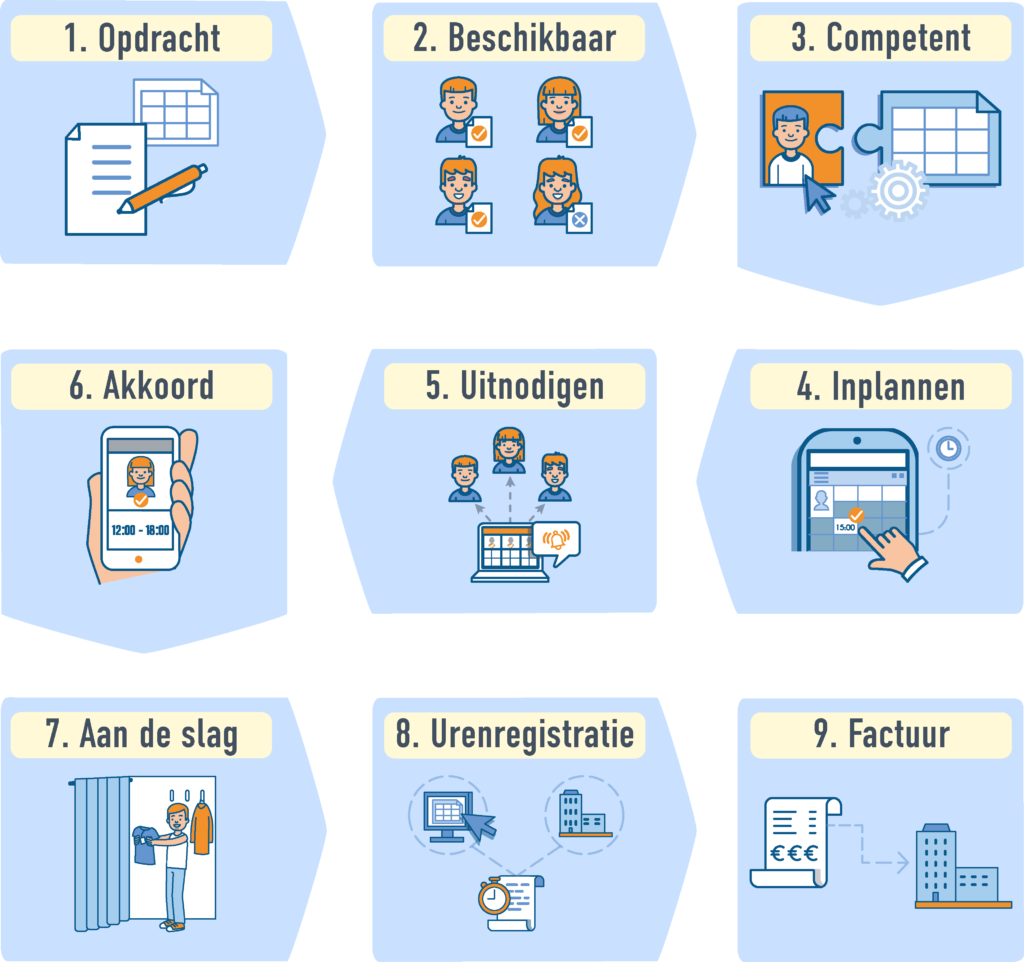 Let's explain them point by point
1. Assignment
Before you start planning the shifts, you must know what assignments/work must be completed for the relevant days.
A lot of work consists of repetitive tasks or simply just attendance. For example, we have dental assistants, inbound call centers, security, reception, and logistics employees who need to be scheduled. These employees have to be on location on the right day and time to do their job there. This is different than the amount of work there is. You can often schedule this automatically with a handy template.
In addition to available professions, there is also work that depends on the customer. For example, there is no need for event security when the event is canceled.
With these services, the schedule is highly dependent on the demand at a particular time. Flexibility in the schedule and among the employees is important to achieve good staffing occupation.
As a planner, you must therefore be the first to know what the assignment or the work is for which capacity must be planned.
2. Availabilty
In order to make a good schedule, it is important to be aware of the availability of your staff. You want to take everyone's wishes into account and schedule them when it is the most convenient for them.
You often receive information about availability in all kinds of different ways and you can quickly lose the overview. Excel does not automatically keep track of the employee's availability. This can cause errors in the schedule, such as scheduling an unavailable employee. That is of course annoying.
Even if you want to let everyone go on summer holiday and keep the company running. It is important to have clear insight into the vacation request of your employees.
What could be easier than a software program where all this is automatically synchronized
3. Competent
In addition to checking whether an employee is available, it is also important to take into account the employee's range of duties. Of course, you do not want an employee who normally works as a waitress to suddenly be working in the kitchen.
You can do this by heart or give each task a different color, but this is of course very error-prone, unfortunately, a program such as Excel cannot automatically take this into account.
4. Scheduling
Before you can schedule an employee, there are a number of points that you must take into account.
Your employee must be available
Any vacation request from the employee
Is the employee competent for the assignment / activities?
Are there different locations and if so, which employee can work at which location.
Of course, it would be easy if this all went automatically and a program automatically includes these kinds of points.
5. Invite
right employees for the tasks, you can share the staff planning with the employees.
After all, it is quite handy that employees know when they have to come to work.
6. Accept
If the staff schedule has been shared with the employees and you have included open shifts, you as a planner, must be aware of the status of that shift. You mustn't run out of employees on a working day.
You can ask your employees to send an email with interest in that service, or to give you a call.
If you receive a message from several employees, you must inform the employees who have dropped out for that shift. By calling them all or sending a message, for example. This takes a lot of time.
After the workforce schedule has been accepted, it is important to know whether the employees have received the schedule.
7. Get started
Now your task as a planner is finished and the employees can get to work.
It is of course possible that you have employees at all kinds of different locations. It is difficult to keep informed whether the employees are actually coming to work. That is why it is useful that you know this as a planner. This can be done with a message or a phone call, but that naturally takes a lot of time.
It would be much easier if the employee could just check-in and the planner would be informed.
8. Time registration
When an employee has finished their working day, these hours must be registered. This is often done with notes, timetables or a template somewhere, but you still have to fill in everything manually. The notes get lost, they are impossible to read or there are other ambiguities. This means you have to compare the hours worked with the scheduled hours.
In addition to time registration, when processing the hours, you also have to take into account all kinds of different allowances such as travel costs, different wage costs (evening allowance, weekend allowance), and overtime. Because you often have to process all this manually, you lose a lot of time. In addition to being time-consuming, it is also very susceptible to fraud and errors can easily creep in.
It is important to process this information properly, otherwise you may miss out on unnecessary costs.
9. Invoice
After the hours have been registered and the allowances have been calculated, you can forward invoices to the customer, or use the information for the employee's salary processing.
It would be useful if you could have an overview to gain insight into these costs. This saves time for personnel administration, ensures openness towards employees, and therefore management/board has good insight into the costs incurred.
Conclusion
25% of professional planning and follow-up revolves around a good overview in which the right people are connected to the right task. The rest of the time and effort revolves around exchanging information. This happens in many companies through different forms and media, which means that a planner spends a lot of time coordinating.
Not only does this lead to a lot of noise and questions, but it also leads to many errors. An appointment is easily forgotten or is not confirmed or is not registered. For an average customer – and of course you are not average – an implementation with ONDURO easily results in 50% fewer errors and a planner can easily schedule twice as many people in a day.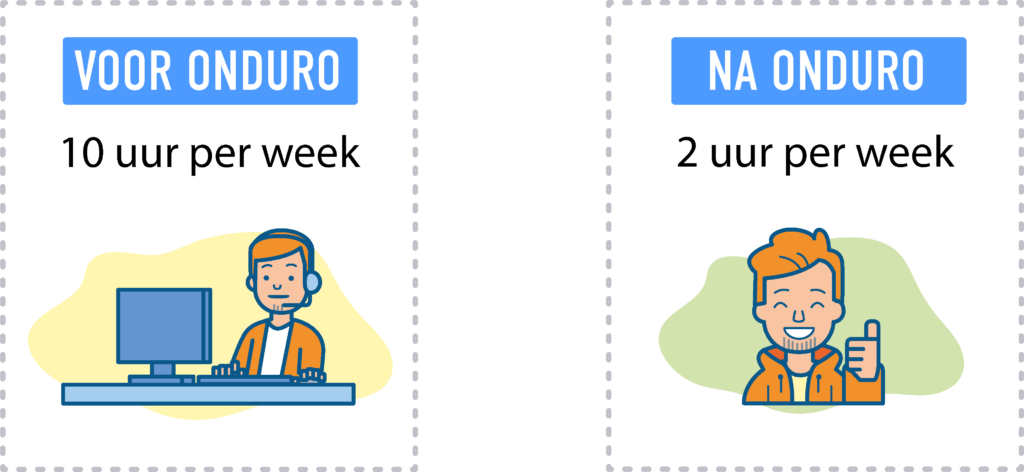 Because ONDURO has a modular structure, our solution is simple and widely applicable.
Do you want to work more professionally with your company and be ready for growth? Are you wondering whether the administration, planning, accountability, and contact with your customers and employees could be improved? Feel free to contact us. We will investigate together whether ONDURO is right for you!
c